If Only We Had Listened is the powerful documentary by Sean Bloomfield and bestselling author Immaculee Ilibagiza.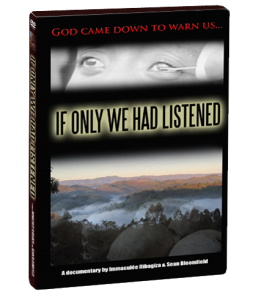 God sent a messenger to Kibeho, Rwanda to warn about the genocide, but few heeded the warning.
Immaculée Ilibagiza knows the story all too well. Nearly her entire family was killed during the genocide, and she survived by hiding in a bathroom with seven other women for three months. Her faith, inspired by the messages of Kibeho, kept her alive.
Join Immaculée as she returns to Rwanda with filmmaker Sean Bloomfield, uncovering the secrets of Kibeho and reconciling with her painful past. Buried beneath the bones of a million victims, a story of hope and love emerges, and Immaculée reveals that the message of Kibeho is not just for Rwanda, but for the entire world.
You can purchase the DVD here.