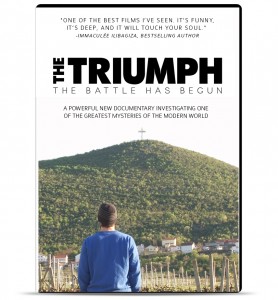 After a long, unexpected journey, The Triumph will finally be available for parishes, schools and groups outside the theater!
You can pre-order your copy here.
First and foremost, thank you to those who helped make this film possible by contributing to our successful crowd-funding campaign last spring. To those who have patiently awaited the DVD release, the official release date is March 18, 2014, so we are just weeks away from shipping the The Triumph's special International Edition with never before seen bonus features, additional archived footage, nine language subtitles, and closed captioning for the hearing impaired.
We're excited about how amazing the DVD turned out and humbled by the global demand for this film that has screened in over 8 countries on 400 screens over the course of 2013. In fact, in 2014, fans of the film are bringing it to additional countries like Panama, Malta and Honduras.
To thank all those who helped make it possible, we're now unveiling a special parish screening program to correspond with the DVD release! If you'd like to join more than 200 hosts who have raised money over $150,000 for charities, prayer groups or parish projects, you can now do so with a special boxed set that includes a parish screening license, DVDs you can sell or give away to benefit your cause, and promotional materials to help make your event a success.
The Triumph Parish Screening Package includes:
20 DVDs of The Triumph
250 collectible tickets
20 wristbands
1 Triumph movie poster
License to publicly exhibit the film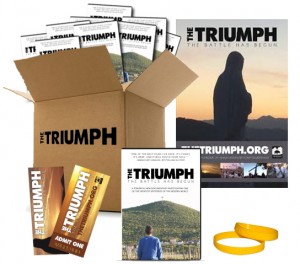 Beginning March 18th, your parish or school can purchase a public exhibition license to host The Triumph in a hall, school auditorium or on a projector just like so many folks have in theaters worldwide. In fact, the average host has raised well over $1,500 directly benefitting a worthy cause.
For those of you who would still like to bring it to theaters, we're also discounting the theatrical site licenses–both domestically and overseas–to encourage you to bring this film to as many communities as possible and join the hundreds of organizations that together have raised over $150,000 to benefit everything from church capital campaigns to impoverished children on other continents.
Click here to learn about our expanded screening program and bring The Triumph to your community this spring!