Miracles. Apparitions. Prophecies. Are they real or mere fantasy?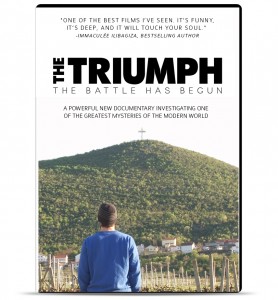 The Triumph, a powerful documentary shown in sold-out theaters all over the world (and now on DVD), investigates the greatest supernatural mystery of modern times.
Six people from Medjugorje, a village in Bosnia-Herzegovina, claim that the Virgin Mary has been appearing to them since 1981. Reports of unexplained phenomena abound.
When a skeptical young man named Ben journeys to Medjugorje seeking answers to life's biggest questions, he discovers something that will change the course of his life forever—and impact every person on the planet.
See The Triumph and decide for yourself. Buy on DVD.
Features
A full apparition caught on video
The new short film about a miraculous priest, "Finding Fr. Jozo"
9 language options: English, Spanish, French, Italian, German, Croatia, Polish, Arabic and Portugese
Close-Captioned for the hearing impaired
140 Minutes (plus 18 minutes of bonus footage)
This is a multi-region DVD for international playback!