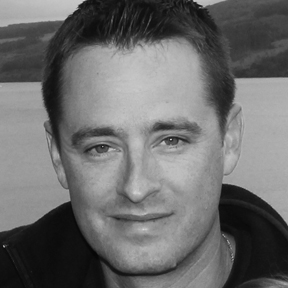 Sean Bloomfield is a third-generation Floridian and former fishing guide. In 2001, he graduated from The University of Tampa with a Writing and Communication degree. Since then, Sean has worked as a writer and documentary filmmaker.
He has traveled all over the world, to places as far away as Vanuatu, Fiji, Brazil, Costa Rica, Croatia and Rwanda, and he has spent time living in New Zealand and Bosnia-Herzegovina. He now lives in Florida with his wife and children.
Sean's debut novel, The Sound of Many Waters, is a unique combination of historical fiction and contemporary literature. Set in Sean's home state of Florida, the novel tells the stories of two men separated by four centuries who discover the same incredible secret.
Sean's documentary films are geared toward capturing modern-day miracles, such as those at Medjugorje in Bosnia-Herzegovina, where he often goes. This subject is thoroughly explored in the film he most recently directed, The Triumph, currently being shown in theaters around the world.
His other recent documentary, If Only We Had Listened, which he produced with bestselling author Immaculee Ilibagiza, is about similar happenings that took place in Rwanda. He has made seven other documentary films including Miracles of Medjugorje, The Fruits of Mary and Miracles of Ireland.
Have questions for Sean? Contact him.
Comments
comments
Comments
comments